Black Ice :
December 24, 2008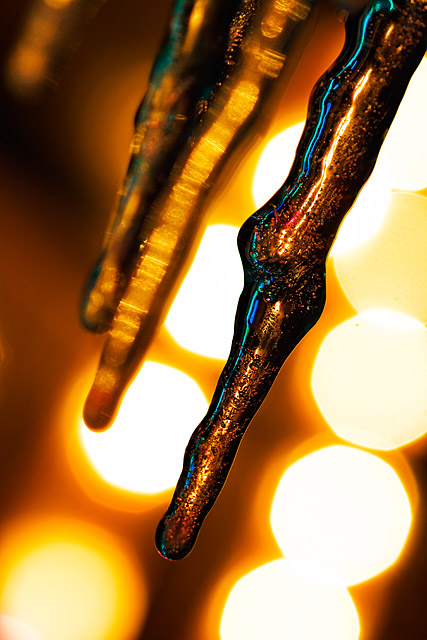 Image Data
File Name: 50D_03023
Model: Canon EOS 50D
Lens: Canon EF 100mm F/2.8 USM Macro
Date: 12.23.08 9:05pm
Focal Length: 100mm (160mm)
Shutter: 1/2 s
F-Stop: F4
ISO: 100
Ex Bias: +2
Program: Aperture priority
Metering Mode: Evaluative
Flash: Off
Focus Mode: Manual focus
We're back in FD for Christmas, so we decided to head up to a small town 20 miles north to take a gander at a house that has always been insanely over-the-top decorated. Not just the house, but the whole huge yard. There's a gazebo, dutch style giant windmill & paths snow blown out so you can walk around. The owner is now in his 80's or something, but still keeps the display going.

So, why aren't you seeing a photo of a blindingly bright, crazy Christmas house? Well, unfortunately, these icicles were the only thing there that didn't scream triple T tacky. As they always say, sometimes less is more. I'm sure it has always looked this way, but it sure does look sweet in my skewed childhood memories.

And no, I didn't grossly over-sharpen this shot. That strong halo around the ice is from the back-lighting.
Comments (0)
Ami Bradwell 12.24.08 6:16am
Ginny & I waited in the car while he took pics... We ended up pulling the car forward about 10 feet for a different view.. There were penguins right in the front of the house & we didn't even see them til he stopped to take their picture!! When its sooooo decorated that I don't even see penguins, you KNOW it's a lot of decorations!!!
---
Colin 12.24.08 6:56am
I still think you grossly over-sharpened and you can't change my mind. Get off my lawn!
---
Leave a Comment