Candlesmoke :
September 26, 2008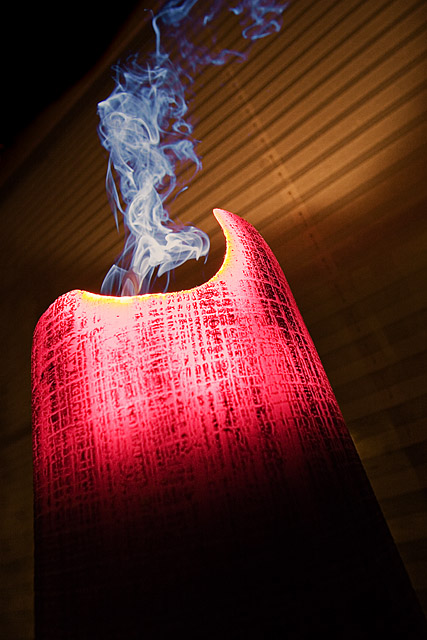 Image Data
File Name: 20D_59857
Model: Canon EOS 20D
Lens: Canon EF-S 10-22mm F/3.5-4.5 USM
Date: 09.26.08 2:12am
Focal Length: 13mm (21mm)
Shutter: 10 s
F-Stop: F8
ISO: 200
Ex Bias: +2
Program: Aperture priority
Metering Mode: Evaluative
Flash: Off
Focus Mode: Manual focus
The heat of the match used to light the candle melts and vaporizes a small amount of fuel. Once vaporized, the fuel combines with oxygen in the atmosphere to form a flame. This flame provides sufficient heat to keep the candle burning via a self-sustaining chain of events: the heat of the flame melts the top of the mass of solid fuel, the liquified fuel then moves upward through the wick via capillary action, and the liquified fuel is then vaporized to burn within the candle's flame.

The burning of the fuel takes place in several distinct regions. Within the bluer regions, hydrogen is being separated from the fuel and burned to form water vapor. The brighter, yellower part of the flame is the remaining carbon being oxidized to form carbon dioxide.

As the mass of solid fuel is melted and consumed, the candle grows shorter. Portions of the wick that are not evaporating the liquid fuel are consumed in the flame, limiting the exposed length of the wick and keeping the temperature and rate of fuel consumption even. Some wicks require manual trimming with scissors or a wick trimmer for even burning.
Comments (0)
Leave a Comment