So Delicious :
September 03, 2008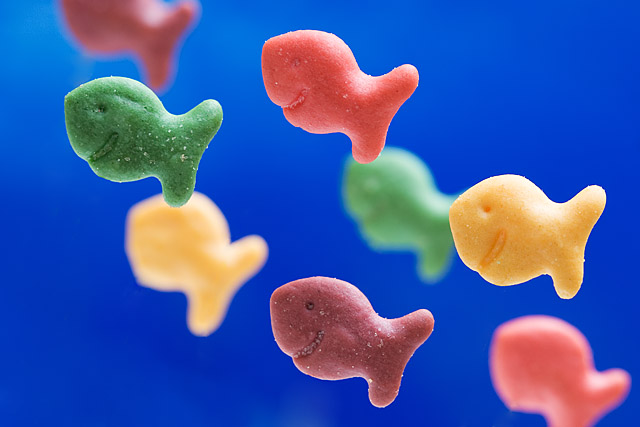 Image Data
File Name: 20D_53987
Model: Canon EOS 20D
Lens: Canon EF 100mm F/2.8 USM Macro
Date: 09.03.08 1:03am
Focal Length: 100mm (160mm)
Shutter: 1/25 s
F-Stop: F4
ISO: 200
Program: Manual
Metering Mode: Evaluative
Flash: Off
Focus Mode: Manual focus
Gone gold fishin'!

Goldfish Crackers are Originally from Switzerland, with the recipe was brought to the U.S. by Pepperidge Farm founder Margaret Rudkin in 1962. Approximately half of the crackers have smiles, while the others are faceless. The box says they're made with smiles.

Here, we have my four fish buddies. Finn, Brooke, Xtreme and Gilbert. Nom nom nom nom.
Comments (0)
Colin 09.03.08 6:43pm
What did people in the US do before 1962? Go to Switzerland? Pft!

Glad I wasn't born before 1962 cuz that would have been rough!!!

nom nom nom!
---
jwen 09.04.08 9:01pm
nom is right!
i hope no goldfish were harmed in the making of this picture? D:
---
Leave a Comment