Memorialized :
May 26, 2008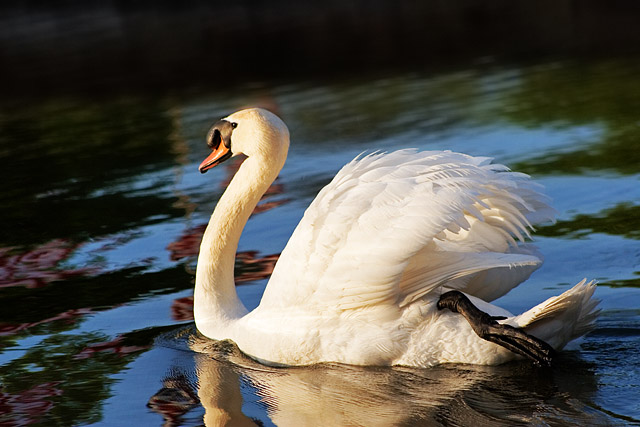 Image Data
File Name: 20D_25286
Model: Canon EOS 20D
Lens: Canon EF 75-300mm F/4-5.6
Date: 05.25.08 7:52pm
Focal Length: 200mm (320mm)
Shutter: 1/800 s
F-Stop: F5.6
ISO: 200
Ex Bias: -1/3
Program: Aperture priority
Metering Mode: Evaluative
Flash: Off
Focus Mode: One shot AF
I dunno what is up with this swan who lives in the pond at an FD cemetery, but he would rather chew on my shoe and pant leg than eat the bread another family threw out to him. Swans lose some of their graceful beauty when they're going to town trying to drag you into the water. This wasn't our first time doing battle, and he assured me it won't be our last.

But alas, the battle of moon vs. swan was nothing compared to the battles the solders we honor today gave their lives in. First enacted to honor Union soldiers of the American Civil War, it was expanded after World War I to include casualties of any war or military action.

In addition to remembrance, Memorial Day is also used as a time for picnics, barbecues, family gatherings, and sporting events. One of the longest standing traditions is the running of the Indianapolis 500, which has been held in conjunction with Memorial Day since 1911. Some Americans also view Memorial Day as the unofficial beginning of summer and Labor Day as the unofficial end of the season. The national "Click It or Ticket" campaign ramps up beginning Memorial Day weekend, noting the beginning of the most dangerous season for auto accidents and other safety related incidents. The U.S. Air Force's "101 Critical Days of Summer" begin on this day as well. Most Americans use Memorial Day to also honor any family members who have died, not just servicemen.
Comments (0)
Leave a Comment