Streaming :
May 27, 2008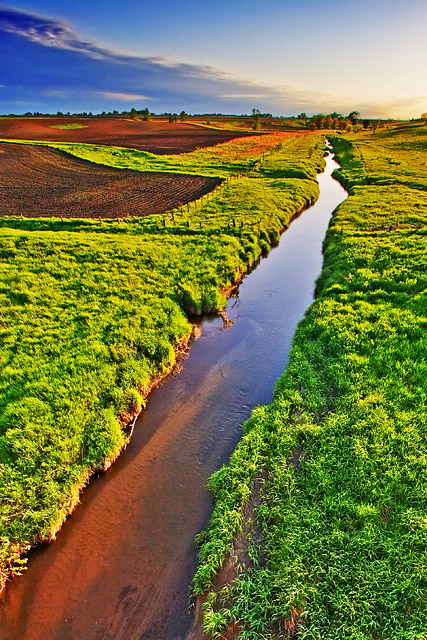 Image Data
File Name: 20D_25404
Model: Canon EOS 20D
Lens: Canon EF-S 10-22mm F/3.5-4.5 USM
Date: 05.26.08 7:56pm
Focal Length: 10mm (16mm)
Shutter: 1/100 s
F-Stop: F11
ISO: 200
Ex Bias: -2/3
Program: Aperture priority
Metering Mode: Evaluative
Flash: Off
Focus Mode: One shot AF
Every river is a stream, but not every stream is a river...

A stream, brook, beck, burn, creek, crick, kill, lick, rill, syke, bayou, rivulet, or run is a body of water with a current, confined within a bed and stream-banks. Streams are important as conduits in the water cycle, instruments in groundwater recharge, and corridors for fish and wildlife migration. The biological habitat in the immediate vicinity of a stream is called a riparian zone. Streams play an important corridor role in connecting fragmented habitats and thus in conserving biodiversity. Stream is also an umbrella term used in the scientific community for all flowing natural waters, regardless of size. The study of streams and waterways in general is known as surface hydrology and is a core element of environmental geography.
Comments (0)
Leave a Comment