Helicopter :
May 23, 2008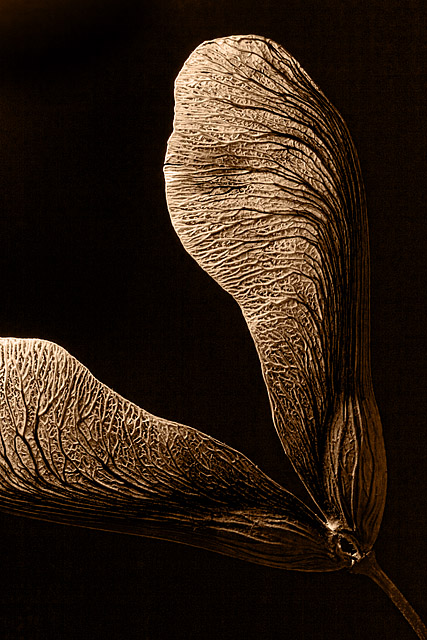 Image Data
File Name: 20D_24875
Model: Canon EOS 20D
Lens: Canon EF 100mm F/2.8 USM Macro
Date: 05.22.08 6:54pm
Focal Length: 100mm (160mm)
Shutter: 1/3 s
F-Stop: F22
ISO: 200
Ex Bias: -4/3
Program: Aperture priority
Metering Mode: Evaluative
Flash: Off
Focus Mode: Manual focus
These crazy Maple tree choppers are always a lot of fun. Well, I guess I shouldn't say always. Cleaning up the mess always sucks, since our entire yard, roof, gutters, driveway, cars and wooly mammoth are complete covered in a blanket of these pesky little samaras. Samara, thats the tecnical term for this type of fruit (yes, fruit... wonder how many are in one serving from the food pyramid) in which a flattened wing of fibrous, papery tissue develops from the ovary wall). Don't be sad if your ovaries don't have wings. We can't all be perfect.

These buggers also cause little maple trees to start sprouting up all over the place. The kitty already has one growing out of her ear. Should be interesting. I'll keep you updated on how that progresses. She's always dreamed of oozing maple syrup, so things are definitely looking up for her.

Tell me again why I said I liked these turkeys?
Comments (0)
Colin 05.23.08 8:00am
Fruit vs. vegetable: vegetable is a culinary term, fruit is a botanical term, and they are not mutually exclusive.

A fruit is a ripened ovary (no coincidence they contain seeds) and a vegetable is a vegetable if people in white coats and funny hats say it is.

A tomato is always a fruit and always a vegetable, don't let alone tell you to the contrary.
---
Leave a Comment