Kiniffy :
May 22, 2008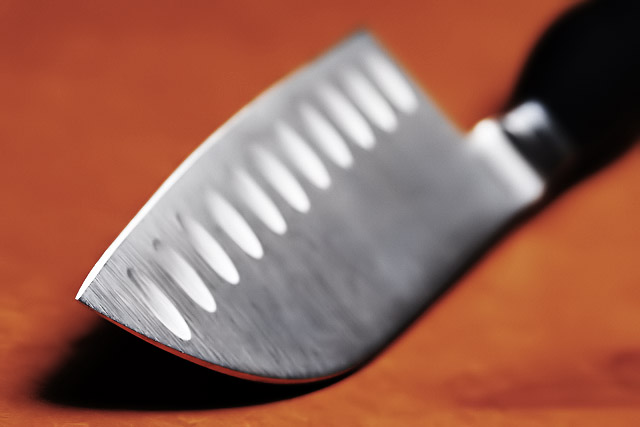 Image Data
File Name: 20D_24759
Model: Canon EOS 20D
Lens: Canon EF 100mm F/2.8 USM Macro
Date: 05.22.08 12:30am
Focal Length: 100mm (160mm)
Shutter: 1/250 s
F-Stop: F8
ISO: 200
Program: Manual
Metering Mode: Evaluative
Flash: On
Flash Details: Manual
Focus Mode: Manual focus
Knife blades can be manufactured from a variety of materials, each with its advantages and disadvantages. Carbon steel, an alloy of iron and carbon, can be very sharp, hold its edge well, and remain easy to sharpen, but is vulnerable to rust and stains. Stainless steel, an alloy of iron, chromium, possibly nickel, and molybdenum, with only a small amount of carbon. It is not able to take quite as sharp an edge as carbon steel, but is highly resistant to corrosion. High carbon stainless steel is stainless steel with a higher amount of carbon, intended to combine the best attributes of carbon steel and stainless steel. High carbon stainless steel blades do not discolor or stain, and maintain a sharp edge.

Laminate blades use multiple metals to create a layered sandwich, combining the attributes of both. For example, a harder, more brittle steel may be sandwiched between an outer layer of softer, tougher, stainless steel to reduce vulnerability to corrosion. Ceramic blades are incredibly hard, lightweight blades; so hard that they will maintain a sharp edge for months or years with no maintenance at all. They are immune to corrosion, but can only be sharpened on silicon carbide sandpaper and some grinding wheels.

Comments (0)
Leave a Comment