Fort Digity Grain :
April 14, 2008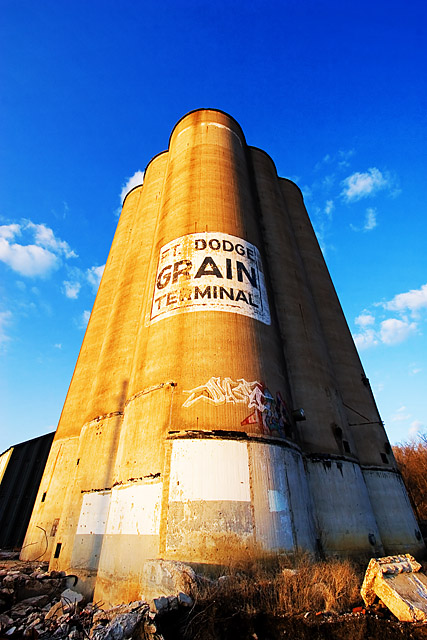 Image Data
File Name: 20D_19938
Model: Canon EOS 20D
Lens: Canon EF-S 10-22mm F/3.5-4.5 USM
Date: 04.13.08 7:23pm
Focal Length: 10mm (16mm)
Shutter: 1/80 s
F-Stop: F11
ISO: 200
Ex Bias: +1
Program: Aperture priority
Metering Mode: Partial
Flash: Off
Focus Mode: One shot AF
So there was an article in the Fort Dodge paper yesterday stating that this old 110' grain terminal is going to be transformed into
the tallest rock climbing wall in Iowa
.
This just so happens to be one of my favorite photo spots when I'm back in Dodge, so I had to stop down there before we left town. Somebody just happened to leave out their ladder reaching up to the normally inaccessible
caged ladder on the side
(it begins 15' off the ground). Well, if you know me, I like to climb, and no matter how hard I tried, I just couldn't resist this opportunity to get a taste of what a
110 foot climb
might be like. Yup, Ami's gona freak over this...
Sorry, the kitty made me do it. I'm powerless against her.
More photos, including shots from the top
(wish FD actually had a skyline).
Comments (0)
Matt 04.14.08 4:08pm
So the "No trespassing" sign means nothing to you?
---
ami bradwell 04.14.08 4:31pm
You are SOOOO grounded!!!!
---
McKay 04.14.08 6:05pm
Thats awesome, I'd love to go up there.
---
Jason Bradwell 04.14.08 9:36pm
It is common knowledge that if a sign has vines growing over it, it is rendered null & void. :p
---
Leave a Comment