Fired? :
April 12, 2008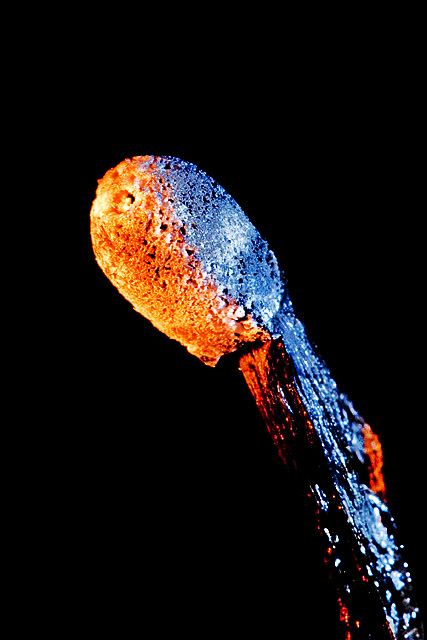 Image Data
File Name: 20D_19702
Model: Canon EOS 20D
Lens: Canon EF 100mm F/2.8 USM Macro
Date: 04.11.08 11:38pm
Focal Length: 100mm (160mm)
Shutter: 2 s
F-Stop: F16
ISO: 400
Program: Manual
Metering Mode: Evaluative
Flash: On
Flash Details: Manual
Focus Mode: Manual focus
The fire has left the building... But its charred remains and scorched scent still linger.

This match head didn't stand a chance once the chemical reaction began. Fires start when a flammable and/or a combustible material with an adequate supply of oxygen or another oxidizer is subjected to enough heat and is able to sustain a chain reaction. This is commonly called the fire tetrahedron. No fire can exist without all of these elements being in place.

Once ignited, a chain reaction must take place whereby fires can sustain their own heat by the further release of heat energy in the process of combustion and may propagate, provided there is a continuous supply of an oxidizer and fuel.

Fire can be extinguished by removing any one of the elements of the fire tetrahedron. Fire extinguishing by the application of water acts by cooling the fuel to stop the reaction. The application of carbon dioxide starves the fire of oxygen. Other gaseous fire suppression agents, such as halon or HFC-227, interfere with the chemical reaction itself.
Comments (0)
Colin 04.12.08 9:27am
Yeah, but did you know that what you see as fire is incandescing soot? Clean burns don't produce much soot ergo not much flame.
---
Leave a Comment