Drivin' Me Razey :
March 13, 2008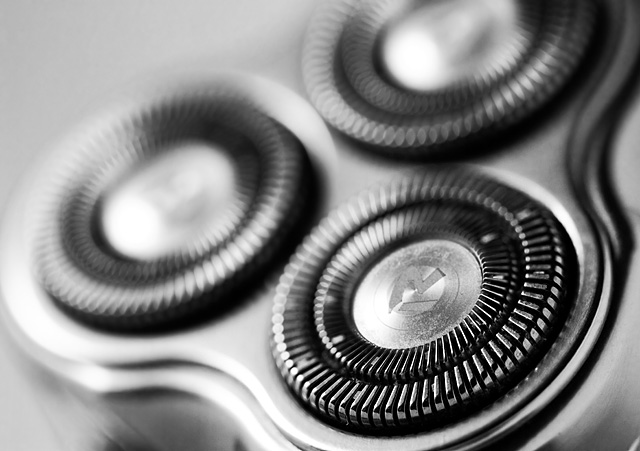 Image Data
File Name: 20D_16910
Model: Canon EOS 20D
Lens: Canon EF 100mm F/2.8 USM Macro
Date: 03.12.08 11:32pm
Focal Length: 100mm (160mm)
Shutter: 1/15 s
F-Stop: F2.8
ISO: 200
Program: Aperture priority
Metering Mode: Evaluative
Flash: Off
Focus Mode: Manual focus
For those of you that know me, it might surprise you that I actually use one of these things. ;) Stand back, it is three discs of rotary hair slicing fury.

The typical major designs of electric razors include the foil variety which uses a structure of layered metal bands that partially pull out the hair before cutting off the extracted length and then allowing the remainder to retract below the skin. The other design is the rotary type with circular blade structures, usually three in a triangular arrangement which has the same shaving function.

The electric razor was patented in 1928 by the American manufacturer Col. Jacob Schick. The Remington Rand Corporation developed the electric razor further, first producing the Remington brand of razor in 1937.
Comments (0)
Leave a Comment