Steam Press :
February 28, 2008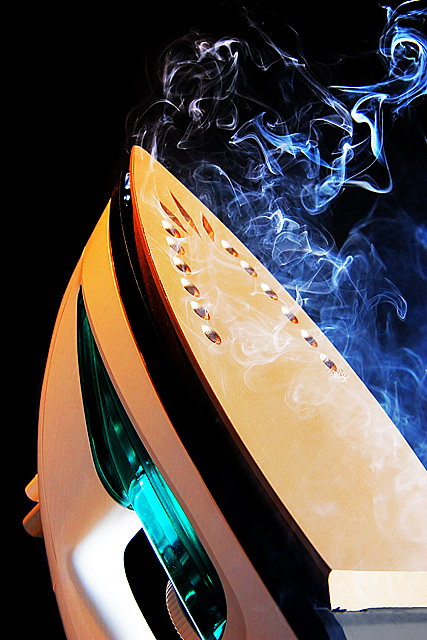 Image Data
File Name: 20D_16186
Model: Canon EOS 20D
Lens: Canon EF-S 17-85mm F4-F5.6 IS USM
Date: 02.27.08 8:43pm
Focal Length: 53mm (85mm)
Shutter: 1/100 s
F-Stop: F11
ISO: 400
Program: Manual
Metering Mode: Evaluative
Flash: On
Flash Details: Manual
Focus Mode: Manual focus
How does ironing work? The heat loosens the bonds between the long-chain polymer molecules in the fibers of the material. While the molecules are hot, the fibers are straightened by the weight of the iron, and they hold their new shape as they cool. Some fabrics, such as cotton, require the addition of water to loosen the intermolecular bonds.

Metal pans filled with charcoal were used for smoothing fabrics in China in the 1st century BC. In the late nineteenth and early twentieth centuries, irons were heated by fuels such as kerosene, alcohol, whale oil, natural gas, acetylene, or even gasoline.

The invention of the resistively heated electric iron is credited to Henry W. Seely in 1882. These had no easy way to control their temperature, and the first thermostatically controlled electric iron appeared in the 1920s. Later, steam was used to iron clothing, with credit for the invention going to Thomas Sears.
Comments (0)
ami bradwell 02.28.08 9:49am
we have an iron??? o_O
---
Alyssa Schultz 02.28.08 3:46pm
Iron? What's that? It's called toss it back in the dryer w/ a damp towel!! Great pic tho! :)
---
Mom 03.03.08 9:50pm
Speaking of ironing, I have about ten shirts that are calling out to me to get the wrinkles out!
---
Grace Larsen 08.01.08 2:03pm
Belated thoughts: (common for me)
We gave a print of the Iron shot framed as a birthday gift to a gal who is obsessed with ironing and is VERY hard to buy for! She was absolutely THRILLED!! She plans to hang the pic in her ironing area.
We appreciate your eye for the creative beauty in almost everything!! Keep it up!
Thanks a million!
---
Leave a Comment