Heart-o-Sand :
April 21, 2008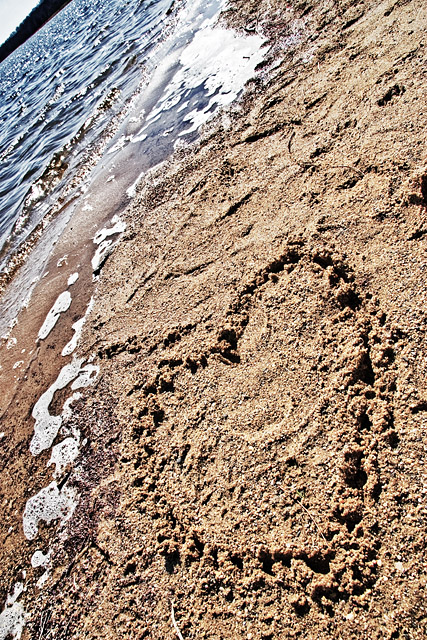 Image Data
File Name: 20D_20509
Model: Canon EOS 20D
Lens: Canon EF-S 17-85mm F4-F5.6 IS USM
Date: 04.20.08 3:34pm
Focal Length: 17mm (27mm)
Shutter: 1/160 s
F-Stop: F16
ISO: 200
Program: Aperture priority
Metering Mode: Evaluative
Flash: Off
Focus Mode: One shot AF
Ami drew this nice heart in the sand for me. Awww...

Sand is a naturally occurring granular material composed of finely divided rock and mineral particles ranging in diameter from 1/16 mm to 2 millimeters. An individual particle in this range size is termed a sand grain. The next smaller size class in geology is silt: particles smaller than 0.0625 mm down to 0.004 mm in diameter. The next larger size class above sand is gravel, with particles ranging from 2 mm up to 64 mm. Sand feels gritty when rubbed between the fingers (silt, by comparison, feels like flour). Sand is commonly divided into five sub-categories based on size: very fine sand (1/16 - 1/8 mm diameter), fine sand (1/8 mm - 1/4 mm), medium sand (1/4 mm - 1/2 mm), coarse sand (1/2 mm - 1 mm), and very coarse sand (1 mm - 2 mm).

The most common constituent of sand, in inland continental settings and non-tropical coastal settings, is silica (silicon dioxide, or SiO2), usually in the form of quartz, which, because of its chemical inertness and considerable hardness, is resistant to weathering.
Comments (0)
Leave a Comment