Da Bus! :
October 01, 2009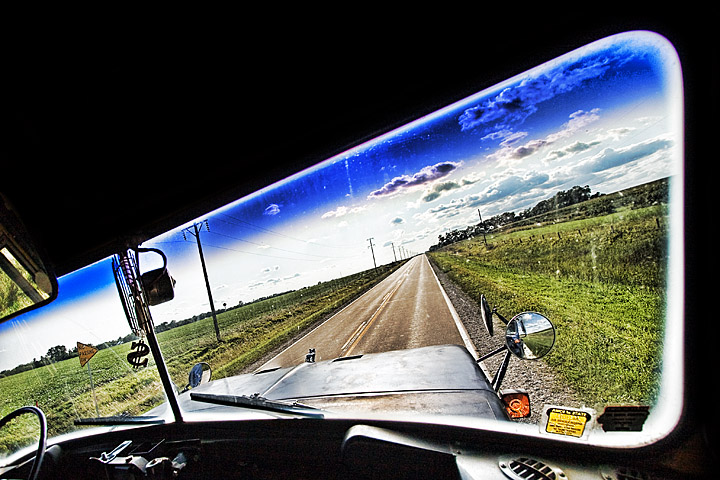 Image Data
File Name: 20D_77445
Model: Canon EOS 20D
Lens: Canon EF-S 10-22mm F/3.5-4.5 USM
Date: 08.29.09 5:49pm
Focal Length: 10mm (16mm)
Shutter: 1/2500 s
F-Stop: F4.5
ISO: 200
Ex Bias: +1/3
Program: Aperture priority
Metering Mode: Evaluative
Flash: Off
Focus Mode: One shot AF
Da Bus!
Thanks for the Like/Fave!
Views: 374
You Liked/Faved This
(9)
Pocahontas
Do you know where the bus is taking you? Or are you just blindly along for the ride?
Comments (0)
Colin
10.01.09 7:17am
Is it the blue bus?
---
TH
10.01.09 7:19am
Maybe it is "The Bus." The green one mentioned on 100.3.
---
ami
10.01.09 9:42am
In my rearview mirror
My life is getting clearer
The sunset sighs and slowly disappears
These trinkets once were treasure
Life changes like the weather
You grow up, grow old or hit the road 'round here
So I drive, watching white lines passing by
With my plastic dashboard Jesus, waiting there to greet us
Hey, hey, I finally found my way
Say goodbye to yesterday
Hit the gas there ain't no brakes on the lost highway
Yeah I'm busting loose, I'm letting go
Out on this open road
It's independence day on this lost highway
---
Jason Bradwell
10.01.09 11:39am
It's the Team $pent RAGBRAI/Wedding Party bus...
---
Josh Cummings - Web
10.01.09 5:23pm
I like how the $ sign in the rear view mirror is leaning with the angle of the camera. And as always, awsome shot
---
Leave a Comment