08-08-08. Does Anybody Really Know What Time it Is :
August 08, 2008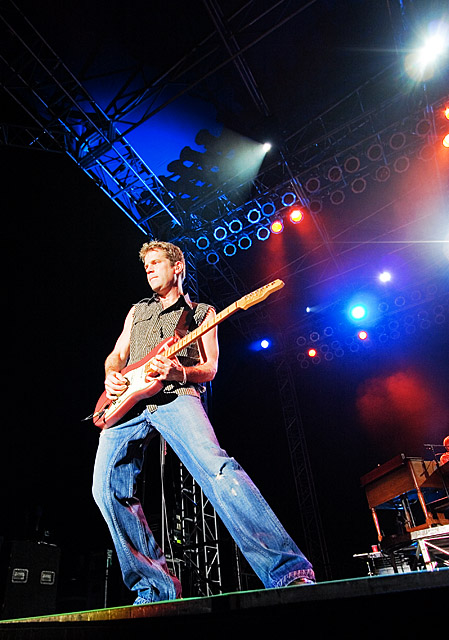 Image Data
File Name: 20D_41762
Model: Canon EOS 20D
Lens: Canon EF-S 10-22mm F/3.5-4.5 USM
Date: 08.07.08 9:58pm
Focal Length: 13mm (21mm)
Shutter: 1/160 s
F-Stop: F4
ISO: 400
Ex Bias: +1/3
Program: Aperture priority
Metering Mode: Evaluative
Flash: Off
Focus Mode: One shot AF
Chicago's Keith Howland on Guitar.

Oh My Freakin G. Press passes rock. Got in to the concert an hour before the gates opened, unlimited access to the back stage area, and got to spend the entire concert on the other side of the crowd control fence, up close & personal with the band members on stage. Was an awesome experience. Even got a bass guitar pick Jason Scheff threw out at the end that his teenage girl fan club fell short of grabbing.

Too bad this concert was like the last Chicago concert, and Jimmy the trombonist had Nick Lane (Marshalltown, IA native) subbing for him. He's still a great player, but nobody can replace Jimmy's stage presence.

I'll have a full gallery up soon, but have nearly 1,200 photos to sift through. That's 11GB of RAW+JPG. 1,200 clicks in 5 hours, all on one battery! Go Canon! (Thanks, Colin, for the 8GB card!) Would have been nice to have a second camera body though... kept changing lenses every 5 minutes LOL.
Comments (0)
Leave a Comment