Giganotosaurus :
July 05, 2008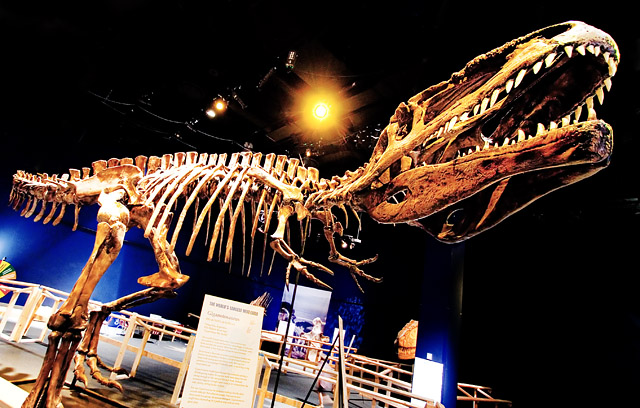 Image Data
File Name: 20D_33293
Model: Canon EOS 20D
Lens: Canon EF-S 10-22mm F/3.5-4.5 USM
Date: 07.04.08 12:42pm
Focal Length: 10mm (16mm)
Shutter: 1/8 s
F-Stop: F3.5
ISO: 1600
Ex Bias: +4/3
Program: Aperture priority
Metering Mode: Center weighted
Flash: Off
Focus Mode: One shot AF
When we first saw the name of this dinosaur (which is larger than the T-Rex), we thought its name was the Giganto Saurus. Seemed pretty lame and obvious to just call the big dinosaur gigantic. Well, apparently we just can't read, since its name is actually pronounced JIG-ah-NOTE-oh-SORE-us (meaning giant southern lizard). My bad.

This species was discovered by a car mechanic on a dune buggy in Patagonia, southern Argentina, 1993. Over 80% of its bones were found, a very high amount for any dinosaur. He measures up at 41-43' in length and may have weighed 6.2 tons, surpassing Tyrannosaurus rex in length by about 3 feet.

This dude may have hunted like somebody carving a Thanksgiving turkey (with an electric knife a big 'ol fork?). Its narrow teeth were sharp but not strong enough to bite straight through the bone like a T-Rex. Instead, it might have come at its victims from the side, slicing off big hunks of meat. Giganotosaurus may have teamed up with a pack to snip & cut its prey.
Comments (0)
Leave a Comment