Spherical Pendulum :
March 26, 2008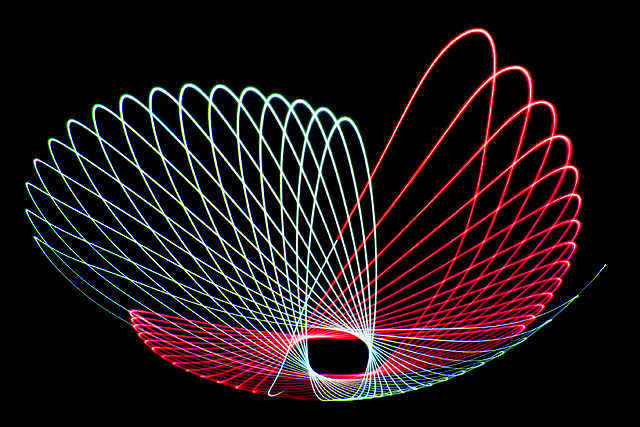 Image Data
File Name: 20D_18230
Model: Canon EOS 20D
Lens: Canon EF-S 10-22mm F/3.5-4.5 USM
Date: 03.25.08 10:44pm
Focal Length: 10mm (16mm)
Shutter: 70 s
F-Stop: F22
ISO: 100
Program: Manual
Metering Mode: Evaluative
Flash: Off
Focus Mode: Manual focus
A spherical pendulum is a conical pendulum set swinging in an ellipse. For small amplitudes the periods along the major and minor axes are almost equal and the ellipse remains stationary in space. But for large amplitudes the ellipse precesses forward because the period for planar pendulum motion on the major axis is somewhat larger than that along the minor axis.
To really understand how this works, you hafta know what crap like this means...


This shot was done with an LED flashlight on a string ;)
Comments (0)
Colin 03.26.08 5:45pm
I <3 the Coriolis effect.
---
Leave a Comment