Stop! Scammer Time! :
January 29, 2010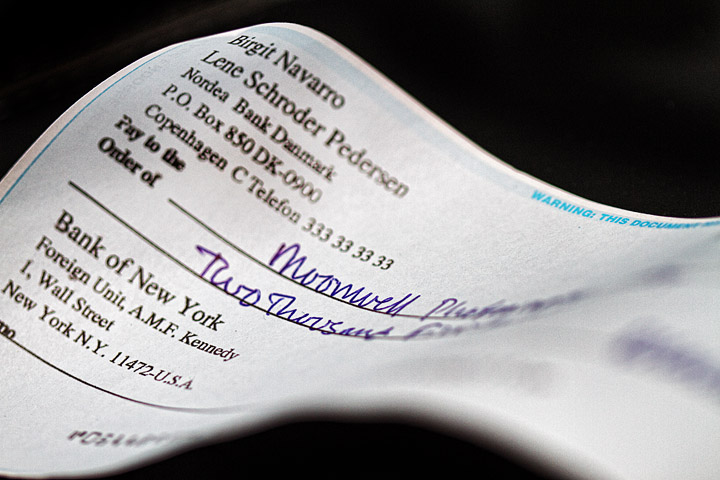 Image Data
File Name: 7D_27655
Model: Canon EOS 7D
Lens: EF 100mm F/2.8 Macro USM
Date: 01.29.10 2:05am
Focal Length: 100mm (160mm)
Shutter: 1/250 s
F-Stop: F2.8
ISO: 400
Program: Manual
Metering: Multi-segment
Focus Distance: 0.63 m
Read the full wedding scam details on my blog
Hello,
My name is Anderson Williams,i live in iowa(USA).I am presently in London(UK)but probably will be moving back home soon and iíll be getting married shortly after my arrival in the states to my fiance Misty Daniel.We will need a wedding/party Photographer to help us in making up our ceremony from the church to the hotel reception.We will like to find out what your plans are for March 27th,2010.This is the date of our wedding so kindly let us know your availability for this day.Weíll take responsibility for your expenses regarding our plans.we might not be able to meet you soon as planned,due to our unavailability in the states but,we are willing to retain the date, thatís to make deposit for booking prior we to our arrival to be sure we are interested in your service,if we really are.Waiting to get your response.
Anderson Williams and Misty Daniel
Comments (0)
Eric Martin
01.29.10 9:03am
Big time! Did they just find you on the web, or were you referred?
---
Jason Bradwell
01.29.10 11:37am
Not sure how they initially found my site. Just saw a direct hit, no search engine referral...
---
William Good - Web
02.15.10 5:09pm
I got the same scam attempt, and, ironically, the same bad quality check you have above. However, I did get in touch with FedEx and they told me these type of scams are under FBI scrutiny and they are flagging drops around the country where these frauds are originating. He said Laos or Nigeria, and that the scammers were having better luck with USPS or Wells Fargo (I think) cashiers checks/money orders.
---
Leave a Comment