Once in A... :
January 01, 2010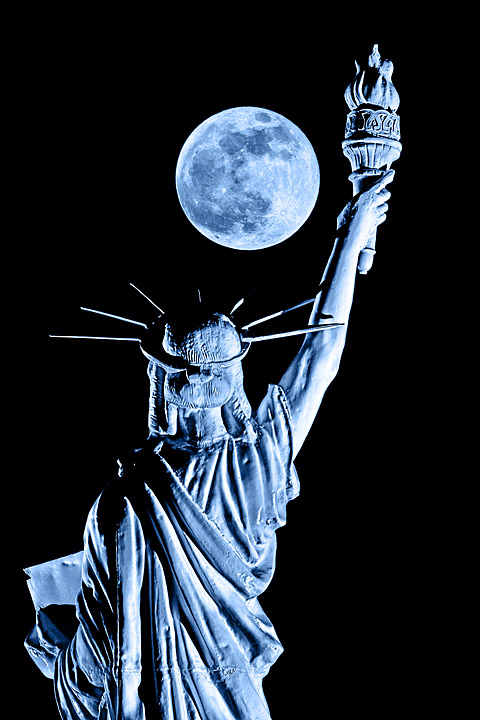 Image Data
File Name: 7D_21994
Model: Canon EOS 7D
Lens: Canon EF 70-200mm F/2.8L USM
Date: 12.31.09 6:24pm
Focal Length: 200mm (320mm)
Shutter: 1/20 s
F-Stop: F16
ISO: 100
Program: Manual
Metering Mode: Evaluative
Focus Mode: Manual focus
Well, the near year has come... Guess I'll keep posting a photo-a-day.

Was the first blue moon on New Years Eve in 20 years. Was very fitting...

There's usually 1-2 blue moons a year, but 1990 was the last blue moon NYE. A blue moon is when there's two full moons in a single month, in case you thought the moon actually turned blue :P

And yes, we have a Statue of Liberty in downtown Des Moines, which may have also been news to you.
Comments (0)
Mark 01.01.10 1:03pm
Not really downtown, is it? More east...
---
Jason Bradwell 01.02.10 11:03am
It's on the East side of the Capitol building. I still claim that to be downtown, whether it technically is or not... "Official" neighborhood is "Governor's Square", or "Capitol East", I guess.
---
Mark 01.03.10 9:58am
I do stand corrected. When I showed the picture to my son (he thought it was impressive and also asked if it was in DM), he said that the Capitol was considered downtown too. I guess it comes from being a lifelong Eastsider- downtown was west of the river. Thanks again for the picture!
---
Eric Martin 01.04.10 8:32am
epic.
---
Paulo 01.26.10 5:13pm
This is incredible, Jason. Very nice job.
---
Leave a Comment