The Tornado! :
February 20, 2008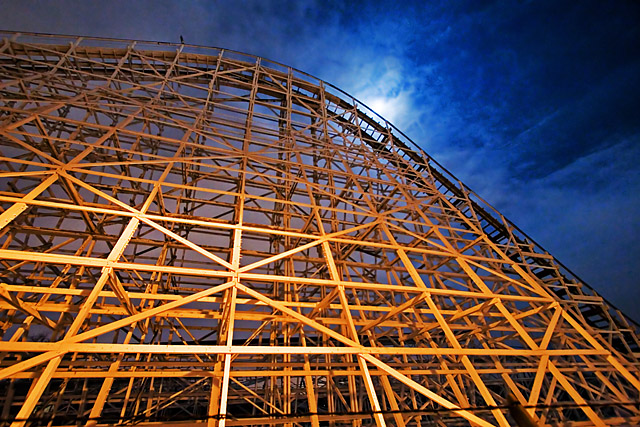 Image Data
File Name: 20D_15698
Model: Canon EOS 20D
Lens: Canon EF-S 10-22mm F/3.5-4.5 USM
Date: 02.19.08 9:38pm
Focal Length: 10mm (16mm)
Shutter: 1/2 s
F-Stop: F5.6
ISO: 1600
Program: Aperture priority
Metering Mode: Evaluative
Flash: Off
Focus Mode: Manual focus
For those of you non locals, this here is the crazy wooden Tornado roller coaster at the UsedToBeKindaFunUntilYou'veExpeiencedBetter amusement park, Adventureland. It was actually considered one of the top 10 wooden coasters in the world when it opened back in 1978.

The name Tornado has special significance for the park. Adventureland was to open for its debut season in July 1974. However, a real tornado hit the park before it could open, pushing it back to August. When the ride debuted in '78, park advertisements exclaimed "Another Tornado has hit Adventureland!"
Comments (0)
Mom 02.21.08 9:34pm
And to think, your dad and I were one of the first ones to ride the Tornado, and they asked your dad for a comment after the ride was over too!
---
Leave a Comment