Climb of Power :
February 23, 2009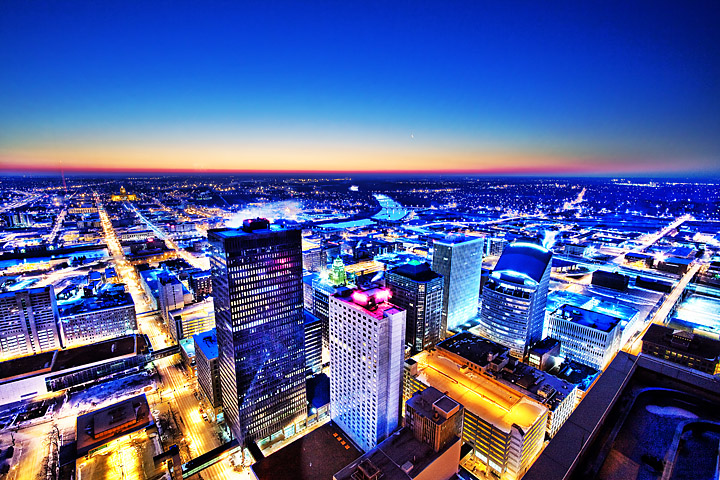 Image Data
File Name: 50D_11403
Model: Canon EOS 50D
Lens: Canon EF-S 10-22mm F/3.5-4.5 USM
Date: 02.22.09 6:29am
Focal Length: 10mm (16mm)
Shutter: 1 s
F-Stop: F8
ISO: 200
Ex Bias: -1
Program: Aperture priority
Metering Mode: Evaluative
Flash: Off
Focus Mode: One shot AF
Yesterday ranks pretty high on the coolness scale. You're gazing Southeast, overlooking downtown Des Moines from the top (41st floor) of 801 Grand! What's that you say? They don't allow any cameras in that building? Top floor access requires exclusive membership in the Embasy Club? Well, this was all about fulfilling a dream (of at least a few months, anyway ;) ) and being able to recognize the opportunity to make it happen.
Yesterday was the 801 Grand Power Climb, a fundraiser for the American Lung association. Almost 850 runners, grandmas, police officers and firemen signed up and raised money to allow them to climb the 1000 steps to the top of the tallest building in Iowa. When I first heard about the event a couple months ago, my first thought was to attempt the climb, but quickly realized it was unlikely they'd let me carry my camera equipment along with me. So instead, I contacted the event coordinator and Picture Iowa became the "official" photographer for the event!
Set the alarm for 4:30am, (but ended up just staying up all night anyway) to get there by 5:30 this morning. I even let Colin come along for the ride. ;) The climbers started at 7am, and we were setup in the stairwell on the 39th floor to capture all the crazy adrenalin rushed (or sluggish, about to die) climbers as they closed in on the finish line. I had two cameras going almost constantly (for nearly 5 hours), and Colin one, half a flight up. Between the two of us, we shot 4000 frames. Holy editing nightmare. ;)
All the event photos should be up at
pictureiowa.com
by mid-week.
Comments (0)
Ami Bradwell 02.23.09 7:27am
Wow! I can see our house from here!!!

---
CubeNeighbor 02.23.09 7:51am
Cool! Did you catch everyone as they went by?
---
eric Martin 02.23.09 10:03am
Wow is the word. Awesome shot!
---
Mom 02.23.09 9:04pm
What an exciting time and great picture of the view!!
---
Susan 03.08.10 9:11pm
This is definitely much cooler than the crappy high-noon shot of 2010
---
Leave a Comment