Capitol Reflector :
January 02, 2009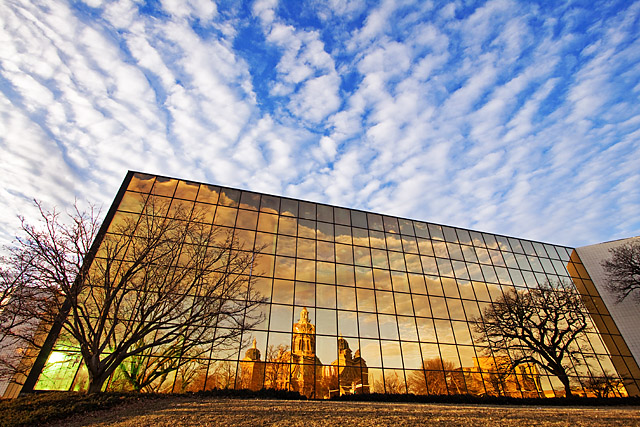 Image Data
File Name: 50D_04546
Model: Canon EOS 50D
Lens: Canon EF-S 10-22mm F/3.5-4.5 USM
Date: 12.31.08 4:15pm
Focal Length: 10mm (16mm)
Shutter: 1/60 s
F-Stop: F8
ISO: 100
Program: Aperture priority
Metering Mode: Evaluative
Flash: Off
Focus Mode: One shot AF
Hurry! Call 911! Am I still breathing? I think I'm going into shock! Yesterday was the first day in a year that I didn't take a new photo for this site. Feels a bit strange to say the least.

Here's the Henry A Wallace office building. I've always loved the golden windows & how they reflect & distort the Capitol building. The building houses the Iowa Department of Agriculture and Land Stewardship, the DNR and the DPS.

The building cost $10.4 million to build in 1978 and today is considered to be a $40 million asset. Covering 229,317 square feet, the building's distinctive architecture and unusual interior floor plan have challenged tenants and building managers since it opened.
Comments (0)
Colin 01.02.09 12:36am
Nice, been meaning to do that one myself.
---
ami 01.02.09 7:00am
I didn't think you'd be able to do it! ;)
---
Leave a Comment