After the Rain :
August 15, 2008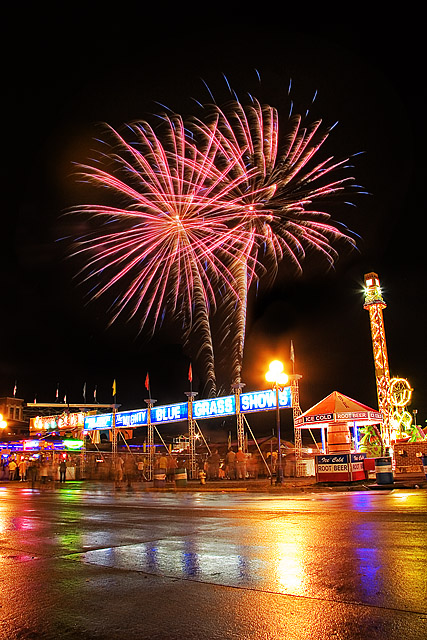 Image Data
File Name: 20D_45178
Model: Canon EOS 20D
Lens: Canon EF-S 17-85mm F4-F5.6 IS USM
Date: 08.14.08 10:38pm
Focal Length: 17mm (27mm)
Shutter: 3 s
F-Stop: F11
ISO: 200
Program: Manual
Metering Mode: Evaluative
Flash: Off
Focus Mode: Manual focus
Wow, back at the fair again. Think I've been there more this year than every previous year combined.

Was a real nice night... until a surprise torrential downpour hit. I was stuck in the midway under a tiny canopy, trying to keep my camera equipment dry (while still taking photos, of course) until it let up in 15-20 minutes. The midway turned into a bit of a river as I discovered the drainage is not so good at the fairgrounds.

Was about to call it a night when these fireworks started going off. Glad I'd been lugging my tripod around.
Comments (0)
Mark 08.15.08 7:03am
Once again, a fantastic fair shot with what looks to be a vacant area in the middle of what should be a packed place! (I see the people in the distance...) do you use magic to de-materialize the people? (In case you can't tell- the ISF is one of my favorite subjects...) You should be a pro!
---
Leave a Comment