TP :
May 19, 2008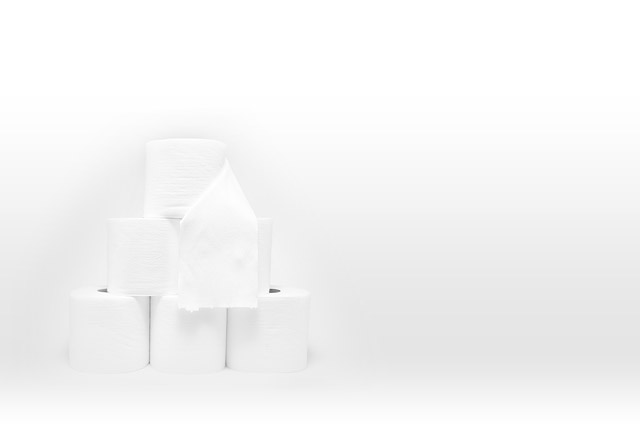 Image Data
File Name: 20D_24556
Model: Canon EOS 20D
Lens: Canon EF-S 17-85mm F4-F5.6 IS USM
Date: 05.18.08 11:34pm
Focal Length: 26mm (42mm)
Shutter: 1/2 s
F-Stop: F6.3
ISO: 200
Ex Bias: +2
Program: Aperture priority
Metering Mode: Evaluative
Flash: Off
Focus Mode: One shot AF
So which way should the toilet paper roll be hung? So the paper unrolls over the top, or from the bottom?

Seems to me the only logical way is over the top. That way the end is easy to see and grab. If the roll is installed the opposite way, the only way to grab on is to let the sheet slither halfway down the wall you can grab it. Doesn't seem too efficient to me!

Somebody in my house claims to not have a preference (it's not the kitty), but it sure seems like I always have to switch the roll around if I wasn't the one to hang it. :P

About the only argument I can see for installing the roll backwards is if there are small children or pets who like to unroll the entire roll at once. It's harder for them to spin the roll and unroll it super fast spinning it up rather than down.
Comments (0)
Colin
05.19.08 1:17am
I prefer over the top cuz it's for the bottom. Opposites attract: magnets prove it, ergo TP must fall into line.
---
ami
05.19.08 6:09am
Colin... that statement was definately
over-the-top
!! ;-Þ
---
Susan
05.28.08 9:53pm
I think this is my favorite. Love the subtleties of color and shadow. It's spectacular ... even without a cat.
---
Steve Cherry - Web
06.06.08 9:40am
Found this via Photofriday - nice job, unique, and gets my vote
---
Leave a Comment